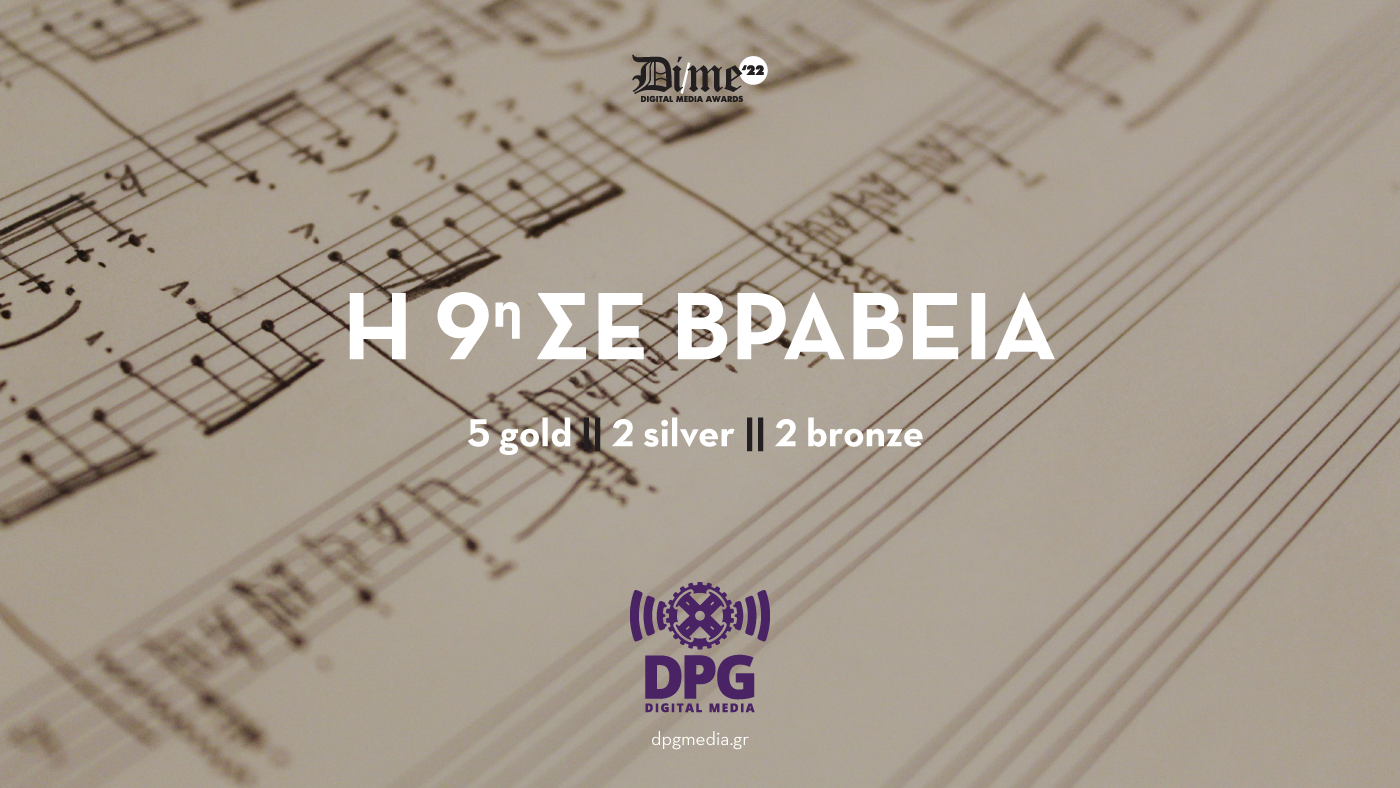 5 Gold and 9 Awards in total for DPG Digital Media at the DIME Awards 2022
The DIME AWARDS constitute is an important institution in the award world and DPG Digital Media received a grand total of 9 awards, 5 Gold, 2 Silver and 2 Bronze in the DIME Awards 2022. The Dime Awards every year bring forward the best projects and the most effective and innovative practices in the field of Digital Publishing.
The ceremony was held on the evening of June 24th, 2022, in Metallourgeio venue, on Peireos Avenue, and was honoured by a large crowd from the digital communication world. There, the representatives of DPG Digital Media, got on stage 9 times in order to receive their awards.
The big tribute titled "2 years Covid-19" stood out and received the Gold Award in the "Best COVID-19 Reporting" category. Moreover, a Gold Award was handed to the reportages titled "Mission to Tunisia: Saving dolphins, turtles and other venerable species" in the "Best International Reporting" category, the column titled "Infographic land" in the of "Best Use of Data for a Story / Report"category, the campaign titled: «Big Love in Christmas Town powered by Mini» in the «Most Creative Native Advertising Campaign» category and the campaign titled "FILL YOUR DREAMS by JUVEDERM" in the "Best Use of Video in Native Advertising" category.
Silver awards won the reportages titled "Fires in Evoia" in the "Best Photo Reporting / Storytelling" category and the podcast "Podcastmedia – Showbiz-o'clock" in the "Best in Entertainment" category. Finally, a Bronze award was handed tp the campaign titled: "Starting from 0.0 by Heineken" in the "Best Native Advertising Strategy" category and "Be your own Golden Santa" in the "Most Creative Native Advertising Campaign" category.
DPG Digital Media continues its dynamic development in research, reporting and advertising services, provided to its users and clients. The awards designate the creativity and professionalism of the company's top human resources in the production of original content and offer extra motivation for constant evolution.